Please Note: Type 2 and Type 4 kits and the Type C kits do not require drilling the carburetor. These pictures are for dedicated Type 1, Type 3 and Type A kits only.
* * * * * * * * * * * * * * * *
Carburetor Conversion Process
for Type 1, Type 3, and Type A Kits
Be sure to review our free offer below.
Here is the still image conversion of a standard carburetor. This carburetor happens to be from a Yamaha EF2600 but most of the Briggs and Stratton, Honda, Generac, Kawasaki, Kohler, Kubota, Mitsubishi, Onan, Tecumseh, Robin Wisconsin, and many other engines are quite similar in their conversion technique. Each step that is describe is not exactly what you will find on all carburetors but the premise is still the same; the carburetor is removed, drilled and made ready for the alternate fuel tube and then reinstalled. Click on any of the pictures below to get a larger image.
Step 1 - Remove the carburetor from the engine.
This requires removing the air cleaner cover. After the cover is removed the filter element is then removed. Remove the nuts that hold the lower section of the air cleaner housing to the mouth of the carburetor. Remove these two nuts and any other bolt that may be used to hold on the air cleaner.

Step 2 - Disassemble all the parts that are attached to the carburetor.
This requires removing the bowl screw, float bowl, float pin, float, needle, high speed jet and nozzle and idle mixture screw.

Step 3 - Drill the carburetor and make ready for reinstalling.
Install the new vacuum fitting into the idle mixture port. The main passage up through the carburetor is not large enough for the new fuel tube to fit so it has to be drilled out. This usually requires a 15/64 or 17/64 drill bit. Drill up the main passage of the carburetor as shown until the bit appears in the air stream. Drill the inside of the idle vacuum fitting for a stronger vacuum signal. Install the new fuel tube which is now held up into the carburetor by the same threads that used to hold on the float bowl. Using the supplied silicone, seal up all ports other than the idle fitting and the main fuel tube.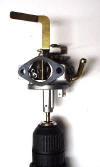 Step 4 - Allow the silicone to set for 24 hours.
The carburetor is now converted and ready to reinstall. The finished carburetor should be allowed to sit for at least 24 hours to allow the silicone to set firmly so that no silicone is drawn into the air stream.

Step 5 - Reinstall the carburetor on the engine.
Reverse the process of removal to reinstall the carburetor. Attach the engine regulator to the frame, cut and install the vacuum and fuel hoses and the unit is ready to connect to the alternative gas supply.
* * * Free Service * * *
If you feel you can not perform these steps, or simply do not want to, you can send us your carburetor and we will convert your carburetor "Labor Free" and send it back to you ready to put back on your engine. Simply add the free service to your shopping cart and we will hold your order until we receive your carburetor. Add additional kit processing time to complete this free service. For brand new engines, before removing your carburetor, run the engine from 1-1/2 to 2 ours on gasoline with an electrical load to assure that the rings have seated and that the unit functions correctly. Ship your carburetor insured via UPS or USPS to:
US Carburetion Kit Center
Attn: SIC
416 Main Street
Summersville, West Virginia 26651
Click here to add the free service to your shopping cart. (This can be added before or after you choose your kit.)