Quick"
Help Links
ALL ENGINES 12hp or smaller use
ALL ENGINES 13hp or Larger use
Dedicated High Pressure Propane
Bi-Fuel Propane and Gasoline
Type 3 Kits
Dedicated Natural Gas and Low Pressure Propane

Type 4 Kits
Tri-Fuel Natural Gas, Propane, and Gasoline
Remote Start
The parts needed to start a generator remotely by wire or even wireless
Don't know what kit is best for your application?
Check Out
or
View Cart
Shop with confidence!

and

Thursday August 05, 2010
News & Features
Kit Production Update:
Production
is currently at:
1-3 days
As always, some kits take a little longer due to heavy order volume.
Kit Center Regular Hours of Operation:
Monday thru Friday
9:00 am - 4:30 pm
Eastern Time.
If you require assistance please fill out a request form using this link
or the email address found in your Master Conversion Instruction Booklet.
(end)
ORDERING & QUESTIONS
Use your credit card and safely and securely order on-line. Or call our office toll free at :
1-800-553-5608
Monday thru Friday 9-4:30 Eastern time. You can place your order over the phone if you feel more comfortable doing that or if you would like to speak with a company representative to answer any further questions you may have.
Please check our BASIC INFO page first.
1-800-553-5608
For our Canada customers call us here in the U.S. toll free at
1-800-486-0077.
What primary fuel do you plan on using?<![if !vml]><![endif]> Please take time to look over this page. It should answer most of your questions. Please click on any unfamiliar word to learn more about that term. Use your back button to return to this page.
Propane cylinders are TANK pressure and what regulator "you" install at the cylinder or tank determines if high or low pressure comes out of the regulator.
Other points of interest:
| | |
| --- | --- |
| | Type 1 & 2 Kits can not be used on natural gas. |
| | Type 3 & 4 Kits can be used on low pressure propane. |
| | A and C Kits can be used instead of the Type 3 and 4 Kits if the engine is 12hp or less. |
| | A and C Kits can be used instead of the Type 1 and 2 Kits if the high pressure line is stepped down to low pressure and the engine is 12hp or less. |
| | If using a propane cylinder or tank just for the generator order a Type 1 or Type 2 Kit with a PGK accessory for 13hp or larger engines. For engine 12hp or smaller order the Type A or C Kit with an NPSK accessory. |
| | If the gas pipe propane system is single staged, one regulator which is only low pressure, order a low pressure kit Type A or Type C. |
| | If you the system has a RED regulator at your tank, then high pressure is available. If the regulator is gray, green, silver, tan, brown, etc. it is low pressure or a single stage low pressure system. |
| | Very often, single stage systems can be easily changed to two stage by adding a high pressure regulator at the tank and moving or adding a low pressure regulator at the building. |
<![endif]--><![if !vml]>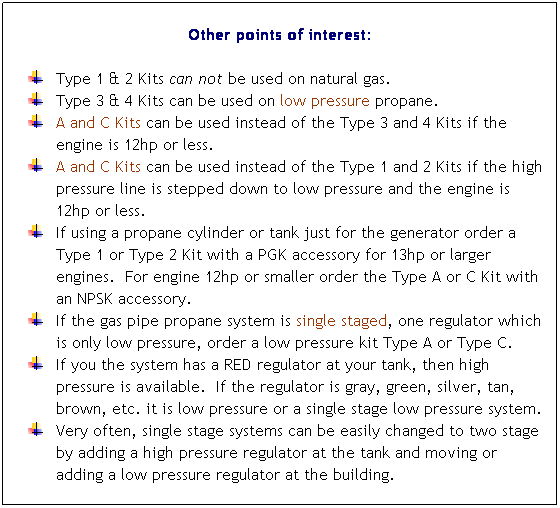 <![endif]><![if !vml]>

<![endif]><![if !vml]>

<![endif]>The four kit types we offer are based on the type of gas system you have and the pressure of the gas system you will be connecting to your generator. If you need help with the terminology being used here, please click on the term you do not understand. When you click on the term that you do not understand you will <![if !vml]>

<![endif]>be taken to the page that has an explanation for that term. Be sure to use your browsers BACK button to return to this page..<![if !vml]>

<![endif]><![if !vml]>

<![endif]><![if !vml]>

<![endif]><![if !vml]>

<![endif]>

Do you also want the option of using gasoline?

Do you also want the option of using gasoline?

Order the Type 1 Kit

or step down the pressure to low pressure and use a

Order the Type 2 Kit

or step down the pressure to low pressure and use a

<![endif]--><![if !vml]>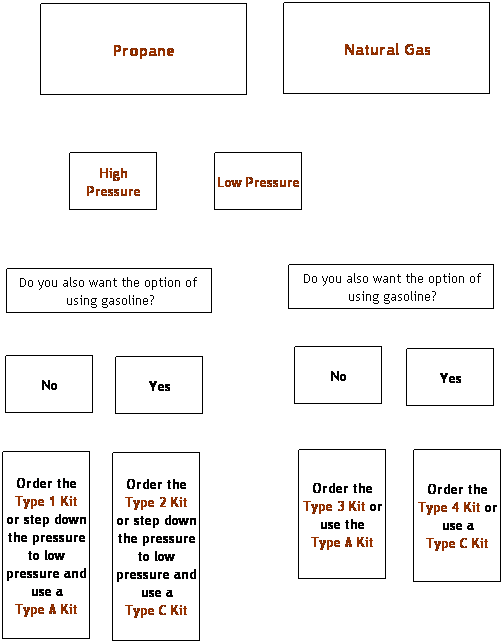 <![endif]>
<![if !vml]><![endif]><![if !vml]><![endif]><![if !vml]><![endif]><![if !vml]><![endif]><![if !vml]><![endif]>