Quick"
Help Links
ALL ENGINES 12hp or smaller use
ALL ENGINES 13hp or Larger use
Dedicated High Pressure Propane
Bi-Fuel Propane and Gasoline
Type 3 Kits
Dedicated Natural Gas and Low Pressure Propane

Type 4 Kits
Tri-Fuel Natural Gas, Propane, and Gasoline
Remote Start
The parts needed to start a generator remotely by wire or even wireless
Don't know what kit is best for your application?
Check Out
or
View Cart
Shop with confidence!

and

Thursday August 05, 2010
News & Features
Kit Production Update:
Production
is currently at:
1-3 days
As always, some kits take a little longer due to heavy order volume.
Kit Center Regular Hours of Operation:
Monday thru Friday
9:00 am - 4:30 pm
Eastern Time.
If you require assistance please fill out a request form using this link
or the email address found in your Master Conversion Instruction Booklet.
(end)
ORDERING & QUESTIONS
Use your credit card and safely and securely order on-line. Or call our office toll free at :
1-800-553-5608
Monday thru Friday 9-4:30 Eastern time. You can place your order over the phone if you feel more comfortable doing that or if you would like to speak with a company representative to answer any further questions you may have.
Please check our BASIC INFO page first.
1-800-553-5608
For our Canada customers call us here in the U.S. toll free at
1-800-486-0077.
Websites to Purchase Propane and/or Natural Gas Generators:
Yamaha-The Best Generators Available
Yamaha Alternate Fueled Generators
Full line of Yamaha generators ready to run on propane or natural gas
Websites to Purchase Generator parts:
Briggs and Stratton Parts
Websites to Purchase Generators for solar use:
Dealers by State that will convert your Generator:
Georgia
City Name Web Site or E-mail

Jasper Ready Power www.readypower.com
Ready Power, Inc. sells, installs and services stand-by power generator systems for residential, agricultural, commercial and light industrial applications. We offer a full line of generators from as small as 1 to 100kW+. We also sell manual and automatic transfer switches, meter-based switches, battery back-up UPS system, and lighting & surge protection devices. We service everything we sell and also convert gasoline portable generators to run on liquid-propane, natural gas or tri-fuel. All our equipment is installed and serviced by our friendly, helpful and well-trained technicians.
New York
Websites of Special Interest and Backup Power: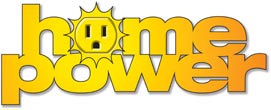 Home Power magazine is the Hands-on Journal of Home-Made Power. If you are interested in: making your own electricity from renewable energy, alternative vehicles, or finding out the latest in related technologies and life-styles, then this publication can keep you up to date.