Quick"
Help Links
ALL ENGINES 12hp or smaller use
ALL ENGINES 13hp or Larger use
Dedicated High Pressure Propane
Bi-Fuel Propane and Gasoline
Type 3 Kits
Dedicated Natural Gas and Low Pressure Propane

Type 4 Kits
Tri-Fuel Natural Gas, Propane, and Gasoline
Remote Start
The parts needed to start a generator remotely by wire or even wireless
Don't know what kit is best for your application?
Check Out
or
View Cart
Shop with confidence!

and

Thursday August 05, 2010
News & Features
Kit Production Update:
Production
is currently at:
1-3 days
As always, some kits take a little longer due to heavy order volume.
Kit Center Regular Hours of Operation:
Monday thru Friday
9:00 am - 4:30 pm
Eastern Time.
If you require assistance please fill out a request form using this link
or the email address found in your Master Conversion Instruction Booklet.
(end)
ORDERING & QUESTIONS
Use your credit card and safely and securely order on-line. Or call our office toll free at :
1-800-553-5608
Monday thru Friday 9-4:30 Eastern time. You can place your order over the phone if you feel more comfortable doing that or if you would like to speak with a company representative to answer any further questions you may have.
Please check our BASIC INFO page first.
1-800-553-5608
For our Canada customers call us here in the U.S. toll free at
1-800-486-0077.
Gasoline is stored in the float bowl as a liquid. When the engine is running, the fuel is used from the bowl and a chamber that connects to a port outside the carburetor to unfiltered "dirty" air allows the air to equalize in the bowl. Especially when engines run out of fuel, unfiltered air with any dust or dirt is drawn in through this port. This unfiltered air enters the float bowl and is later drawn into the engine which can cause engine damage.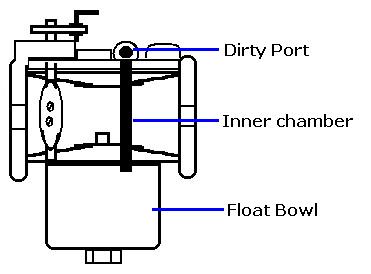 Click on these examples of "Dirty Ports" from a few famous brands of carburetors to see their location:
The first two are marked at the area of the dirty port. We didn't mark the third one. See if you can figure out where it might be.
Click here for the correct answer: Carburetor 3 Dirty Port
To find the "Dirty Port" on your carburetor, it will usually be noticeable by a buildup of unexplainable dirt as shown on the untouched photo number 1 which is of a used carburetor. Photos 2 and 3 are brand new carburetors.